Details
Allow you to upgrade your 99-06 Twin Cam (except 06 Dyna Glide) to the newer roller-style cam chains and replaces the spring tension cam chain adjusters with the later-style hydraulic adjusters for longer life
Cam grinds listed are designed to be used with stock lifters; they require the installation of a 07-15 cam plate, oil pump, cam sprockets and chains, and both hydraulic chain adjusters (these parts are not included and must be purchased separately)
A list of required components is supplied with each set of cams
Performance should be similar to earlier bikes with the same cam grinds
Made in the U.S.A.
"26N" GRIND CAMS
Can be used with stock valve springs and tappets
Add more torque and horsepower at low and middle rpm range (1800-5200 rpm)
Bolt-in cams for low rpm torque and two-up touring
Fits: Harley Twin Cam 1999-2006 (Excluding 2006 Dyna)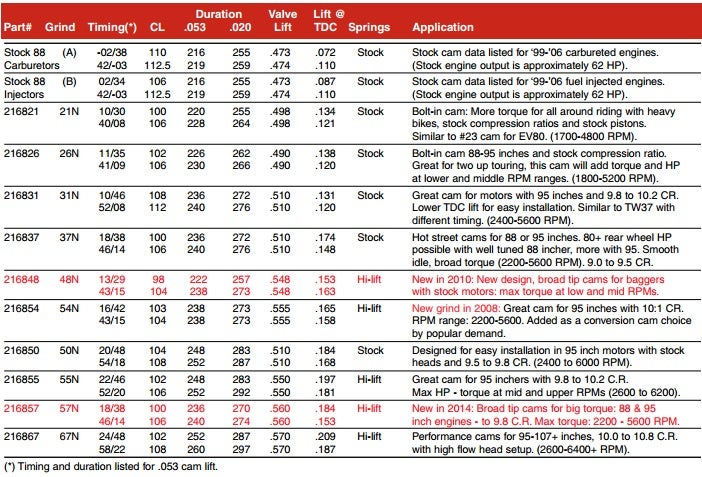 NOTE: 99-06 Twin Cam motors (except 06 Dyna Glide) cannot use the 07-15 cams, as the bearing journal on the earlier motors is .875" in diameter and the 07-15 cams are 1.000" in diameter. The "N" series of cams feature the .875" bearing journal, yet still accept the new style cam support plate.
NOTE: 99-01 model motors must use the Andrews rear cam sprocket $69.95. 2002-2006 models must use the stock rear cam sprocket, OEM #25728-06.
NOTE: Installer must check coil bind, valve-to-valve clearance and valve-to-piston clearance.
Additional Information
| | |
| --- | --- |
| Finish | N/A |
| Position | N/A |
| Manufacturer Part No. | 216826 |
| Brand | Andrews |
| Warranty | Manufacturer's Warranty |
| Additional Notes | Installer must check coil bind, valve-to-valve clearance and valve-to-piston clearance. Highly tuned engines and require the knowledge of an expert engine builder for proper setup and installation. |
| Manufacturer's Suggested Retail Price | $310.95 |
Manufacturer's Warranty
You may also be interested in the following product(s)